About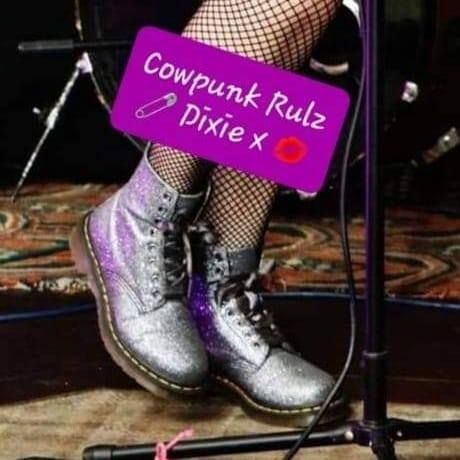 Dixie Riot - Cowpunk Queen
Every night's a party night with Dixie. My shows are lively, fun and bouncy and as the songs are familiar to everyone, great for dancing and singing along to.
Professional, experienced, reliable. My act is a lively mix of my original rock songs, rock remixes of country & pop songs, a range of Punk & Rock covers. 
I am currently taking bookings for 2023/2024 - please message me for more details.
A bit of background for the history buffs:
Cow-punk (or country punk) is a subgenre of punk rock that began in the United Kingdom in the late 1970s and southern California in the early 1980s. It combines punk rock or new wave with country, folk, and blues in its sound, lyrical subject matter, attitude, and style.
Pop-Punk is a rock music genre that combines elements of punk rock with elements of pop music and power pop. It is distinguished from other punk variant genres by drawing more heavily from 1960s & 1970s pop rock. 
Music
0:00/3:16

0:00/2:35

0:00/3:59

0:00/3:12

0:00/4:10

0:00/3:54

0:00/2:38

0:00/2:52

0:00/3:49

0:00/2:54
Now available to download on Spotify, Deezer, Amazon Music, Apple Music, Youtube Music, iTunes + More
PLEASE CLICK ON THE LINKS BELOW:
Events
Dixie is supporting the amazing band Scumbus